Soccer has moved from being just a game of fun to a sport that unites people regardless of their race, language, or religion. In fact, soccer is now a way of life for many soccer fans and its adoption into the movie industry only proves that it is now an integral part of human existence.
In light of this, we bring you 10 of the best soccer movies everyone should watch especially if you are a soccer lover. Some of these great soccer movies are actual soccer events while some are fictional stories. As you take out time to watch these movies, you will most likely develop a new appreciation for the beautiful sport that soccer is. Let's get the ball rolling.
Review of the Top Soccer Movies
1.Bend it Like Beckham (2002)
Cast: Keira Knightly, Parmindra Nagra and Jonathan Rhys Meyer
Box office rating: 6.6/10
This romantic comedy movie tells the story of a young Indian girl, Jess, who loves to play soccer. However, her parents are having none of it and they forbid her from playing soccer.
With no one to talk to, Jess confides in the picture of David Beckham hanging on the wall in her room. I personally think her parents' wouldn't have been so averse to her love for sports if her interest was in a sport like gymnastics. If you would like a review of gymnastics movies you can check out our other article dedicated to that.
Fortunately, she meets Jules who encourages her to try out for the local women's football team and also introduces her to the local coach, Joe who later becomes Jess' love interest much later in the movie.
Bend It Like Beckham is one of the top soccer movies with a great plot and a strong emphasis on feminism. It changes the narrative of the stereotypical view that women should only aspire to get married. The movie is up on some great digital movie deals and you will definitely enjoy watching it on a night out with your pals.
| | | |
| --- | --- | --- |
| Organization | Year | Award Name |
| British Comedy Awards | 2002 | Best comedy film |
| ESPY Awards | 2003 | Best Sports Movie ESPY Award |
| GLAAD Media Awards | 2004 | Outstanding Film – Wide Release |
2. The Damned United (2009)
Cast: Michael Sheen, Timothy Spall, Colm Meaney and Jim Broadbent
Box office rating: 7.5/10
Based on David Pearce's bestselling novel 'The Damned United,' and drawing largely from the experiences of Brian Clough this is definitely one of the top soccer movies. The film focuses squarely on Brian Clough, manager of Leeds United who takes over from Don Revie when he leaves to coach the English National Team after their failure to qualify for the 1974 FIFA World Cup Final.
Faced with the challenge of managing Leeds United's cynical way of playing, the movie details the bitter rivalry between Brian Clough and Don Revie and how it impacted Clough's short stint as Manager.
The Damned United is an unheralded examination of Brian Clough's belligerence and brilliance over 44 days. Much of the focus is on Brian Clough as one of the great soccer personalities of his time. Damned United is fitting for binge-watching movie rentals night with your buddies.
3. Offside (2006)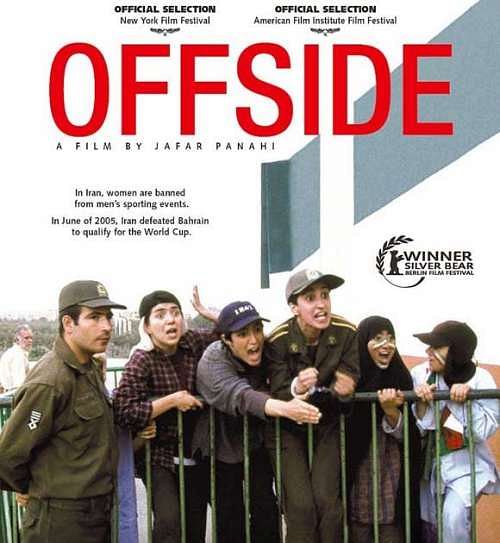 Cast: Shima Mobarak-Shahi, Safar Samandar, Shayesteh Irani, Ayda Sadeqi, Golnaz Farmani, Mohsen Tanabandeh
Box office rating: 7.3/10
Offside is a thought-provoking film that employs soccer as a tool to shine light on Iranian laws, and its effect on the society while also exploring gender politics in the country.
In the movie, female soccer fans are not allowed to watch soccer matches because it is seen as a men's sport. However, six female soccer fans are determined to watch the Iran v Bahrain qualifying match for the 2006 World Cup.
Hence, they disguise themselves as young boys and sneak into the stadium. Unfortunately, they are caught.
Half way into the second half, the women are bundled into a bus by soldiers with orders to take them to the Vice Squad headquarters where they will face the consequences of their actions. As they proceed, they listen to the radio commentary and discover that India has won the match.
The city of Tehran explodes with festivity, a spontaneous street party begins and as result the bus is held up in a traffic jam. Left with no choice but to join the celebration, the soldiers and women alight from the bus and join other citizens in merrymaking.
In Offside, we see how soccer can bring a nation together regardless of their differences.
| | | |
| --- | --- | --- |
| Organization | Year | Award Name |
| Berlin International Film Festival | 2006 | Silver Bear (Jury Grand Prize For Best Feature Film) |
4. Shaolin Soccer (2001)
Cast: Stephen Chow, Zhao Wei, Ng Man-tat and Patrick Tse
Box office rating: 7.3/10
This definitely has to be one of the most hilarious soccer movies ever made but in spite of that, it is emotionally stimulating while mixing the richness of martial art with soccer.
Sing, the movie's soccer star, seeks to promote Shaolin's Kung Fu to the modern world and while on this quest, he meets Fung, a former soccer legend. Fung encourages Sing to play soccer and offers to coach him. Afterwards, Sing recruits his former shaolin brothers to be part of his squad under Fung's mentorship so they can participate in the soccer tournament.
Sing meets Mui, a baker who has Kung Fu skills unknown to him and also becomes his love interest. Mui's Kung Fu skill remains unknown to him till his team reaches the final of the soccer tournament and have to battle a team of scientifically enhanced Kung Fu players led by Fung's arch-enemy.
Shaolin Soccer is a comedy sport action-packed movie with emphasis on loyalty, friendship, and determination. It remains one of the best soccer movies for families to watch and it is definitely a great deal on movie buying sites.
| | | |
| --- | --- | --- |
| Organization | Year | Award Name |
| Blue Ribbon Awards | 2002 | Best Foreign Language Film |
| 7th Golden Bauhinia Awards | 2002 | Best Picture and Best Director |
| 21st Hong Kong Film Awards | 2002 | Best Picture and Best Director |
5. United (2011)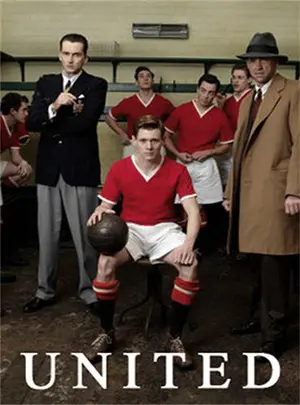 Cast: David Tennant, Jack O'Connel, Sam Claflin Dougray Scott
Box office rating: 7.4/10
This soccer movie tells the true story of Manchester United's team nicknamed "Busby Babes" and the aftermath of the 1958 Munich air disaster which claimed the lives of eight club players.
The scene when the payers were on their way back to England reminds me of one of the best travel movies with high expectations and anticipation but then the plane crash happened.
It particularly focuses on the relationship between Manchester United's assistant manager, Jimmy Murphy, and one of the players, Bobby Charlton.
The players were nicknamed Busby Babes because most of them were young and averagely experienced. However, they rose to become the youngest side ever in the history of Manchester United to win a Soccer league.
Unfortunately, their careers were cut short by a tragic plane crash that left eight members of the team dead. This movie is not just for die-hard fans of the famous Manchester United club, it is a movie for all soccer fans.
6. Goal (2005)
Cast: Kuno Becker, Alessandro Nivola, Stephen Dillane and Marcel Lures.
Box office rating: 6.7/10
Directed by Danny Cannon, this soccer movie is centred on Santiago Munez, a young man from a poor background who is offered the chance to trial with one of England's top football clubs.
Although he is an illegal immigrant, (you can read our article on immigration movies) Santiago is a skilled footballer, he plays for his local team and also dreams of going professional. He finally gets his chance when he meets Glen Foy, a former Newcastle United player who is still in contact with the club.
With Glen's help, Santiago travels to London for a tryout with Newcastle although his father does not believe in his dream. While in London, Santiago does his best to prove his worth and show that he deserves a place on Newcastle United's team.
Goal is absolutely interesting and is worth being bought on a movie site Roger Ebert had this to say about the movie, "I was surprised, then, to find myself enjoying the movie almost from the beginning….The starring performance by Kuno Becker is convincing and dimensional."
| | | |
| --- | --- | --- |
| Organisation | Year | Award |
| Imagen Foundation Awards | 2007 | Best Actor (Film) – Kuno Becker |
7. Escape To Victory (1981)
Cast: Sylvester Stallone, Michael Caine, Max Von Sydow and Pele
Box office rating: 6.7/10
Starring Sylvester Stallone, this movie tells the story of a team of allied prisoners of war (POWs), coached by Captain John Colby who was a professional footballer for West Ham United before the war.
The team agrees to play an exhibition match against a German team but unknown to them, they are involved in a German propaganda stunt.
With special appearances from renowned soccer players like the famous Brazillian player, the great Pele, the soccer star captain of Britain's 1966 World Cup team, Bobby Moore, and other prominent soccer players like Osvaldo Ardiles, Kazimierz Deyna, Paul Van Himst, Mike Summerbee, Halvar Thoresen, and Werner Roth.
As the movie unfolds, the players realise that this is more than just soccer and that they might have finally landed the opportunity to escape.
8. The Football Factory (2004)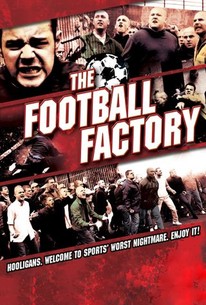 Cast: Danny Dyer, Frank Harper, Tamer Hassan and Roland Manookian
Box office rating: 6.8/10
The Football Factory is a British sports drama movie that tells the tale of the rivalry and bad blood amongst soccer fans and its repercussions on their lives and environment. In the movie, we are made to see how much soccer is loved worldwide, and how it can result in some unhealthy rivalry amongst soccer lovers.
Written and directed by Nick Love, The Football Factory tells the story of a Chelsea fan, Tommy Johnson who lives for the violence and other harmful vices which eventually change the course of his life and that of others around him. Saddled with the fear of impending doom, Tommy gets to a crossroad and has a rethink about his lifestyle and company he keeps.
Made in a documentary style, the movie sheds light on the obsession with violence amongst soccer lovers. If you're wondering if you can get this movie on discount movie deals, of course, you can.
| | | |
| --- | --- | --- |
| Organization | Year | Award Name |
| Kodiak Award | 2004 | Best Cinematography |
9. Mean Machine (2001)
Cast: Vinnie Jones. Jason Statham, David Kelly and David Hemmings
Box office rating: 6.5/10
An adaptation of The Longest Yard, an American film produced in 1974 about American football, the movie follows the story of Danny Meehan, (Popularly called Mean Machine) a retired soccer player banned for life from playing soccer because of illegal match-fixing.
The story unfolds when Danny is arrested for drunk driving and assaulting two police officers after which he is sentenced to jail for three years.
Things take a terrible turn for Danny because of his celebrity status as a famous soccer player in prison as many of the prison guards do not like him. Hence, he is often attacked and beaten in prison.
The prison governor David Hemmings offers Danny a job to be the Head coach of the prison warden football team but he declines the offer by making a counteroffer to create and train a group of inmates who will eventually play against the prison warden soccer team. From this point on the plot, it's all hands on deck for Danny the Mean Machine. If you're looking for movies to add to your movie collections, you've got one right here.
10. Kicking And Screaming (2005)
Cast: Will Ferrell, Robert Duvall, Kate Walsh and Mike Ditka
Box office rating: 5.6/10
Also on the list of the best soccer movies of all time is the hilarious yet entertaining 2005 American sports comedy movie titled Kicking and Screaming. The story centers on Phil Weston who feels inferior around his father, Buck and this inferiority complex can be traced back to some of his childhood experiences.
Now older and married with a son named Sam, Phil runs a vitamin store while Buck coaches the Gladiators, a little league soccer team. Sam is on Buck's team but for reasons best known to Buck he transfers Sam to The Tigers, the worst team in the league.
Phil then decides to coach Sam's team when the coach misses a game. From this point, we see a rivalry between father and son i.e Buck and Phil, as they both strive to make their team outdo the other.
Scott Foundas of Variety describes the movie as "An immensely likable, funny comedy that finds a novel approach to that familiar combo of kids and sports." Indeed, this movie is one of the best soccer movies for families.
Frequently Asked Questions About the Best Soccer Movies of All Time
Are there inspirational soccer movies?
Of course, there are inspirational soccer movies. Every movie reviewed in this article will definitely inspire something in your heart. Some will inspire you to greatness, some will motivate you to stay courageous and determined while some will inspire love in your heart.
What are the best soccer movies for kids?
Some of the best soccer movies for kids are Kicking and Screaming, The Early man, Bend It Like Beckham, The Big Green, Back To The Net, My dad's A Soccer Mom, The Other Kids, Alex and Me, Golden Shoe, Air Bud: World Pup, and Underdogs. Most of them are rentable movies so you might want to actually check them out as well.
What soccer movies are based on true stories?
There are some good soccer movies based on real events, and some of them include The Damned United, Offside, Escape To Victory, Pele: The Birth Of A Legend, United, and Zidane: A 21st Century Portrait.  
What are the best soccer movies ever made?
Every movie reviewed in this article is great and they are definitely some of the best soccer movies ever made. So if you're looking for the best soccer movies ever made, you've got them right here and you can buy the movies online too.
Conclusion: Best Soccer Movies
In soccer games, fans experience the joys and thrills of the game, and we sincerely hope that you would feel the same way as you take out time to watch these 10 best soccer movies of all time.
Via these best soccer movies, you will have the privilege of experiencing some of the best real and fictional events centered around the world's most loved sport and also see how much it has impacted lives.
Enjoy!